Biography
Lifelong Learning Center Manager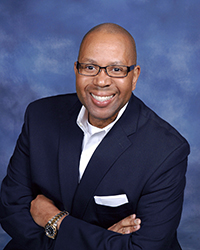 Augusta Green, IV, is the Director of the Joe Samuel Ratliff Lifelong Learning Center (LLC). He is a native Houstonian, the youngest of seven children of Augusta (deceased) and Cora Green. Augusta accepted Christ as a young boy at South Union Missionary Baptist Church-Houston where he participated in several activities including president of the youth choir. Augusta's education includes a degree in Interior Design from the Art Institute, Houston, a Bachelors of Art-Interdisciplinary Studies, from Grand Canyon University, Phoenix, AZ. and a Master's of Science in Leadership, from the Grand Canyon University Ken Blanchard College of Business.
"Gus" as he is sometimes called, is a familiar face on the Brentwood Campus. He has been a Freelance Interior Designer over 25 years and was contracted to give the Brentwood Campus a facelift over a two-year period beginning in January1998. In 2000 he joined the Brentwood staff. He eventually landed the contract as Interior Designer for the Doris Gardner Ratliff Center for Child Development and the Joe Samuel Ratliff Lifelong Learning Center facility. His practical use of space, combined with eclectic furnishings, exciting colors and wall treatments, has produced a pronounced upscale look around the campus. It was inevitable that Mr. Green's talent would be called upon again with the renovation of the Worship Center and the Staff Offices.
As Director of the LLC, Mr. Green and his staff of seven are responsible for balancing the schedule of events on the Brentwood Campus.
He always has a kind word to say and it doesn't take much to get him to laugh. His attitude to make it happen, his dedication to excellence and his passion for flare are the ingredients that have help the LLC Building become another thriving community beacon to the Brentwood Baptist Church campus. He is the facilitator for the Book Club, Catering, LOVE Ministry, Scheduling and the Wellness Ministry. In addition to his work at Brentwood Baptist Church, he is also a member of the Brentwood Community Foundation Scholarship Committee and a member of RCMA (Religious Conference Management Assoc.)