Five Star Award
---
Brentwood Baptist Church is the recipient of
"The Five Star Award"
in recognition and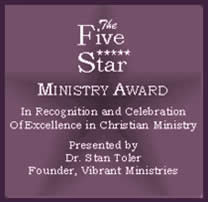 celebration of its excellence in Christian Ministry.
The Five Star Church Award is
presented to churches that seek excellence for the Lord in every
endeavor.  Striving toward this standard encourages and provokes
Christians and churches to nurture hearts and minds devoted to
excellence in their service for God.
The Five Star Church must:
Be people focused
Be Bible-based
Be Doctrinal-purposed
Always be centered on Jesus Christ
Be complemented with a pragmatic freedom within the ministry
Reaching a multitude of people
Creating numerous solutions
Change lives
Have an outstanding quality of worship
Do an outstanding job of teaching the Word of God
Confronting various problems