Rev. Thomas Hayden Garner
Young Adults & Marketing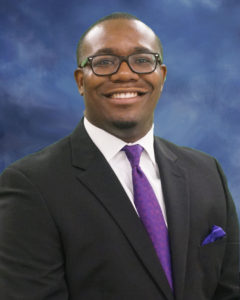 Rev. Thomas Hayden Garner is a native of Dallas, TX. He has been a servant in preaching and ministry for nearly 10 years. After accepting his calling, Thomas was licensed to preach and ordained at Antioch Fellowship Missionary Baptist Church in Dallas, TX, by Rev. Dr. Karry D. Wesley. He graduated from Prairie View A & M University in December of 2013 with a Bachelor's Degree in Business Marketing with a Minor in International Business. At Prairie View Thomas was the founder of the PVAMU Young Ministers Association, President of the American Marketing Association, Co-Chair of the American Cancer Society; Relay for Life and Co-Host of "The Church and Community In Action" KPVU Radio Show.
In December of 2017, Thomas Graduated with Honors from George W. Truett Theological Seminary of Baylor University, with his Masters of Divinity and concentration in Church and Ministry Leadership. At Baylor Thomas served as the President of Truett Preaching Society and the Truett Black Student Association. Thomas was also a proud Preaching Coach, under the leadership of Dr. Joel C. Gregory and Dr. William H. Gloer.
During his time in ministry, Thomas has served as Preaching Assistant to Rev. Fred Thomas III of the Greater St. Peter's Missionary Baptist Church, Young Adult Pastor and Preaching Assistant to Rev. Robert Thomas of Olivet Missionary Baptist Church. In the summer of 2017, Thomas had the privilege to serve as an intern at The Brentwood Baptist Church under the leadership of Dr. Joe Samuel Ratliff. After the completion of his master's degree he officially joined the staff of Brentwood Baptist Church as a full-time staff minister, where he currently serves as the Marketing Coordinator and Young Adult Minister. Thomas is proudly married to the love of his life, Taylor T. Garner.