Planting seeds for the future…
Push Pay Online Giving     PushPay for Apple     Pushpay for Android
---
Welcome to the Brentwood Baptist online giving system.
Giving online is a convenient and secure way to submit your financial generosity. When you give, you can designate your gifts for any of the purposes listed. And, we invite you to use the calculator below as a helpful tool for planning out your generosity. If you have questions about online giving, please contact Dr. Joseph Ford, for assistance.
Tithes and Offerings
Donations to Great Commission Giving impacting our city, our nation, and our world for Christ.
Local Missions
Direct financial support to Brentwood and numerous mission churches preaching the Gospel in multiple languages in the city of Houston.
Benevolence
Funds used to provide financial assistance for those who apply through the Benevolence Ministry at Brentwood Baptist Church.
---
The generosity calculator below uses your annual income to show what your total annual giving would be at six different percentages of your income.
The percentages are grouped into different steps on the generosity ladder:
Intentional

 

— giving consistently, but less than 10% of your income
(The calculator provides contributions at 3%, 5% and 8%.)
Tithing

 

— faithfully giving 10% of your income
(The calculator provides contribution at 10%.)
Extravagant

 

— giving beyond 10% of your income
(The calculator provides contributions at 12% and 15%.)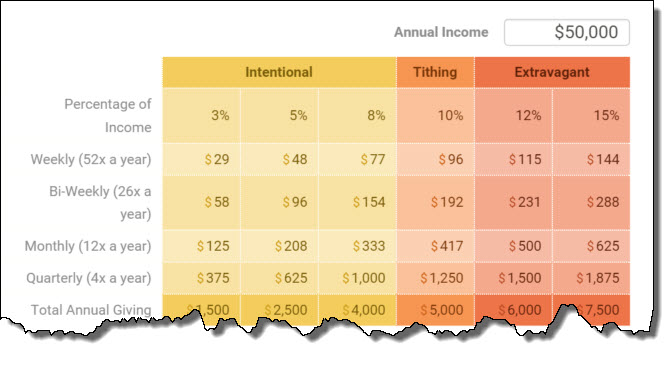 ---